TV star joins Garden Lovers Fair at Marshall's Yard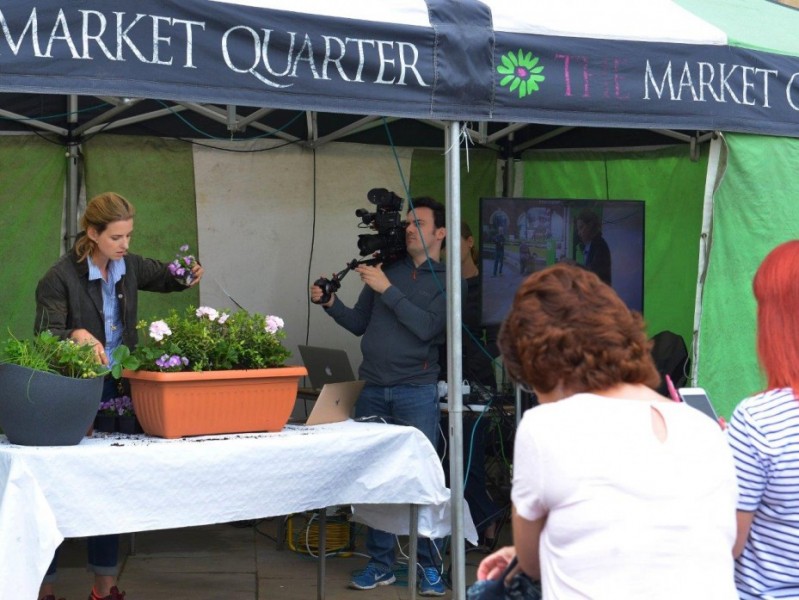 « Back to news
TV star joins Garden Lovers Fair at Marshall's Yard
5 June 2018
Visitors to Marshall's Yard in Gainsborough were treated to some special gardening tips at the weekend as part of the centre's first Garden Lovers Fair.
The special event featured lots of green fingered tips and ideas for garden lovers as well as special demonstration by gardening expert Katie Rushworth, from ITV's Love Your Garden.
Katie shared some of her top tips on how to create a "Love Your Garden" inspired outdoor space. The event also featured special garden themed activities for children and Owlin Mad also attended the fair with some of their feathered friends for young visitors to meet.
The event took place in the fountain area at Marshall's Yard on Saturday June 2nd and included a fantastic line up of traders selling garden related products - from plants to garden ornaments, with something for everyone's gardening needs.
Gainsborough in Bloom promoted the work that the group undertakes and also ran a 'make your own greenhouse' workshop for youngsters.
Two lucky shoppers, Fiona Cane and Michael Smith, won the fantastic containers that Kate made during her demonstrations.
Alison Shipperbottom, centre manager at Marshall's Yard said: "It was lovely to see so many garden lovers who came along and enjoyed the event. Katie was great and had some great ideas and gardening tips to share."
The centre has a busy line up of events throughout the year – to keep up to date visit the centre's website at www.marshallsyard.co.uk
Picture shows: Katie Rushworth with Fiona Cane and Michael Smith who won the garden containers she made in her gardening demonstrations.
For further information, contact:-
Alison Shipperbottom
Centre Manager, Marshall's Yard
Tel: 01427 810706
Email: alison.shipperbottom@marshallsyard.co.uk
Or
Public Relations Department, Dransfield Properties Ltd
Tel: 01226 360644
Email: pr@dransfield.co.uk