Gainsborough Car Wash Signs Lease at Marshall's Yard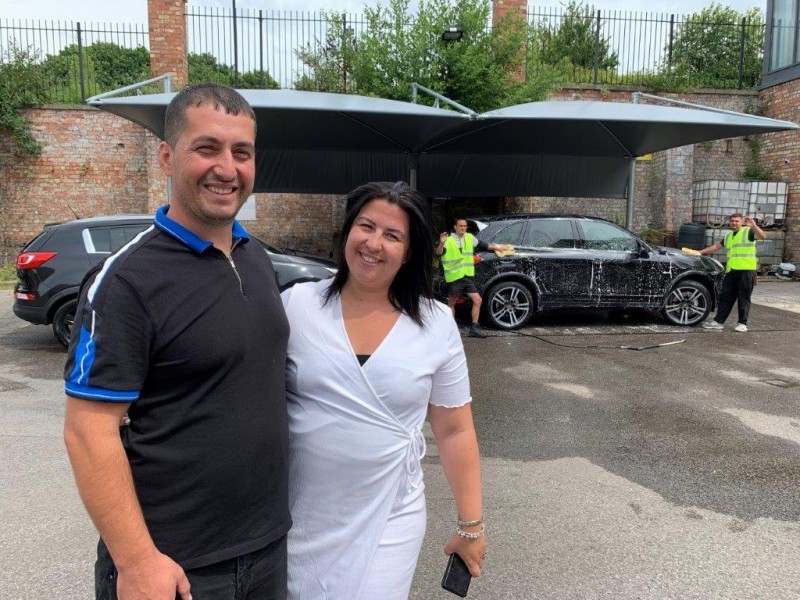 « Back to news
Gainsborough Car Wash Signs Lease at Marshall's Yard
4 July 2022
The popular car wash service that has been running behind Marshall's Yard for the past eight years has now cemented its commitment to the centre by signing a new lease.
Married couple Samantha Thornhill and Hekuran Kyka have grown the business over the years building a loyal customer base who can entrust their vehicles to the team and guarantee a thorough valet and clean on their return from shopping at the Yard.
Hekuran said: "We offer a range of services at our car wash from an £8 external clean to a full professional valet including full body polish and back to black service inside and out.
"We can clean whilst you wait or alternatively, we have space for a small amount of cars to be left for up to two hours whilst you carry out any shopping or errands on the Yard."
Marshall's Yard was the couples first choice when setting up the business due to its prominent location and with over 600 workers based at the centre, the business has never struggled for passing trade.
The team pride themselves on offering a friendly service as well as a strong guarantee that your vehicle will be left in safe hands whilst it is cleaned.
Centre Manager for Marshall's Yard, Jodie Pacey, said: "It's fantastic that Gainsborough Car Wash have continued their commitment to the centre. They offer a popular service to our shoppers and we are pleased that visitors can continue to get their cars washed when enjoying a shopping trip or eating out at one of our many venues.
"We wish Hekuran, Samantha and the rest of the team every success with the remodelling works they have carried out to their space and hope all customers enjoy the changes."
By entering a formal agreement the couple have now invested in new signage, a canopy over their forecourt and more CCTV.
Gainsborough Car Wash employs four members of staff and operates seven days a week from the service yard which can be found off Spring Gardens directly behind the centre.
ENDS
For any media enquiries, please contact Charlotte Toplass on 01427 810706 or e-mail charlotte.toplass@marshallsyard.co.uk
Pic Caption – (L-R) Hekuran Kyka and Samantha Thornhill
For further information, contact:-
Public Relations Department, Dransfield Properties Ltd
Tel: 01226 360644
Email: admin@dransfield.co.uk