The Coca Cola Truck comes to Marshall's Yard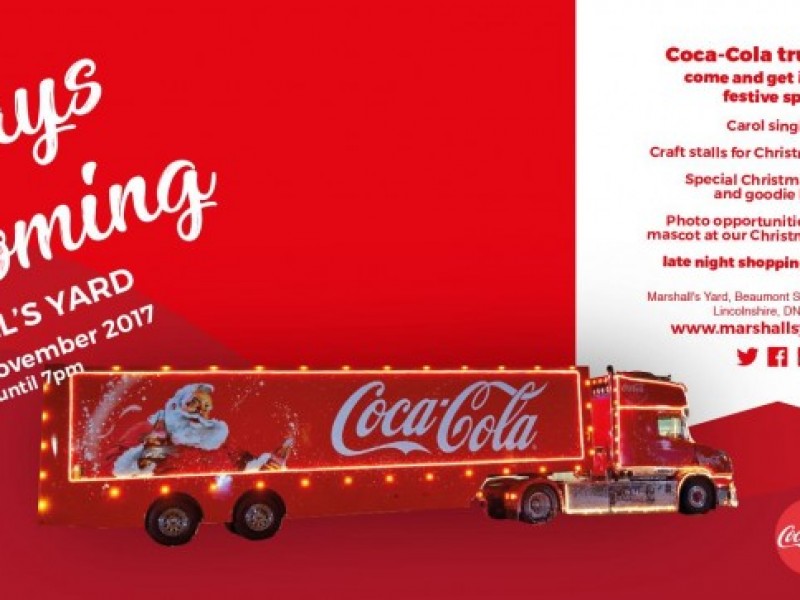 « Back to events
The Coca Cola Truck comes to Marshall's Yard
23 Nov 2017
The Coca Cola Truck comes to Marshall's Yard from 11am until 7pm.
Join us for festive fun, craft stalls, Christmas selfies and shopping!
Getting to the Event
We would advise all attendees where possible to please attend the event on foot or use the public transport links available.
If you must come by car please use the park and ride service available from Williamson's Farm, DN21 3HP. Please see bellow the time table and costs.
Alternative Parking
Trent Port Car Park
Car Park opposite Trinity Football Club on North Street - also served by the Park and Ride bus.
West Lindsey District Council Car Parks – please visit https://www.west-lindsey.gov.uk/my-services/my-community/transport-and-parking/parking/car-parks/ for more information and locations
Lidil
Tesco
Aldi
*Please make sure that you check the maximum stay as well as terms and conditions of each car park as these all vary*
Travelling From...
Lincoln - Please follow the signs and use the park and ride service available
Scunthorpe - Please Park at Williamson's Farm and use the park and ride service available
Bawtry and Nottinghamshire – Please use Trent Port car park and walk or alternatively use the park and ride service available
Gainsborough Town centre and surrounding villages – please walk to the event or use public transport where possible.
We are expecting high levels of traffic within Gainsborough on this day, we advise you allow extra time for your journey.